Welcome to St Edward's Parish website.
Fr Denis J McGillycuddy, Parish Priest
Please see our latest newsletter for Mass Times link
This weeks newsletter:  link
Livestreaming in the Church and Upper Room.
Our Livestream in the  church can be found at:  link or type the following into your browser: https://www.mcnmedia.tv/Camera/st-edwards-church-selly-park-birmingham, iIn both cases you should see the screen below:
Our Livestream in the Upper Room can be found at : link  or type in your browser www.youtube.com into your browser and then in the YouTube search box type"St Edward's Upper Room", in both cases you should see the screen below: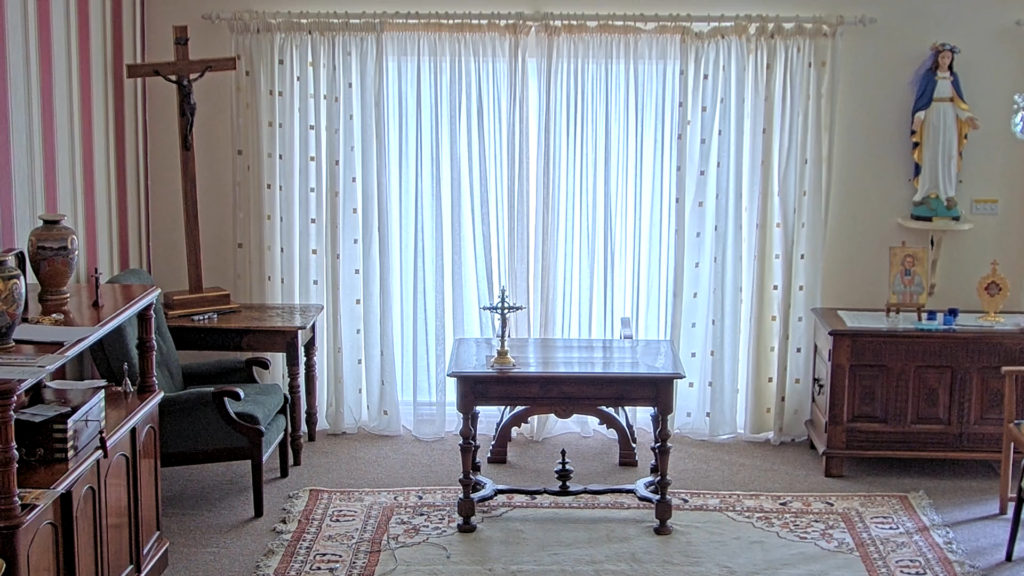 Photographs of St Edward Church

Follow the daily Readings at Mass. Universalis or Alive Publsihing
Make an Act of Spiritual Communion –  This can be done whilst you watch a live stream of Mass  by saying the following prayer:
"My Jesus, I believe that You are present in the Most Holy Sacrament.
I love You above all things, and I desire to receive You into my soul.
Since I cannot at this moment receive You sacramentally, come at least spiritually into my heart. I embrace You as if You were already there and unite myself wholly to You. Never permit me to be separated from You."
100th Anniversary of the Legion of Mary
The Legion of Mary will be 100 years on September 21, 2021. To mark this joyous celebration, we will like to invite you to these events.
1. Centenary mass at St Chad's Cathedral on Sunday 5th of September 2021. Mass starts at 2pm. Registration is required, please speak to Rita Ocho
2. 100th anniversary celebration being organised by the West Birmingham Curia on Sunday 26 September, 2021. Venue: St Dunstans, Kings Heath. Time: 12noon, refreshment follows after mass. Registration not required. More information: Frank Duff Legion of Mary 100th Anniversary.pdf
"The earth is filled with harmony and trust when the alliance between man and woman is lived well." Pope Francis.
Baptism, Wedding and Funerals:  For Baptsims, Weddings and Funerals please contact the parish office.
Pray As You Go is a daily prayer session, designed to go with you wherever you go, to help you pray whenever you find time.  A new prayer session is produced every day of the working week and one session for the weekend. It is not a 'Thought for the Day', a sermon or a bible-study, but rather a framework for your own prayer. Lasting between ten and thirteen minutes, it combines music, scripture and some questions for reflection. The style of prayer is based on Ignatian Spirituality. It is produced by Jesuit Media Initiatives, with material written by a number of Jesuits, both in Britain and further afield, and other experts in the spirituality of St Ignatius of Loyola. Although the content is different every day, it keeps to the same basic format.
Birmingham Archdiocese:  Website news link  e-newsletter sign up link